About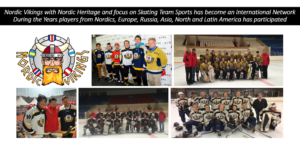 The Heritage of Nordic Vikings
Nordic Vikings entrance in the IIHF Supported  Asia League Ice Hockey 2005 became a jump start – Vikings was in lead of League in Autumn 2005 and still has most of Chinese Records in the Asia League. But the Team also had a stint in American Football in Europé in the late 1990thies, where they became Champions of Europé 1994 and 1995
The Club now focus on the Nordic Heritage in Skating Teamsports mainly Ice Hockey but also Bandy and Inline Hockey. The focus in China as in other Countries – with Ice Hockey and Bandy has been in supporting the Development Steps for Developing Countries.
During the years Nordic Vikings has been involved in many set ups and developing projects internationally – and Per-Erik Holmström became Professor of Winter Sports in Harbin China for the things done with  China Bandy and China Ice Hockey. In Sweden Nordic Vikings has been Involved in both Legends Ice Hockey as well as Inline Hockey
The Club have worked, developed and hosted many players but also leaders who have reach Highest National Club Levels and National Team Levels in Sweden, Finland, Norway, Denmark, Iceland, China, Japan, Korea, Spain, Colombia, USA, Russia, Slovakia, Czech and Swiss.
The move into Spain is based and initiated on the Links between Sweden- Spanish Speaking peoples Interest and Skating Sports in both the Nordics and the Spanish Speaking World, and the Heritage Education of Skating Sports
President Per-Erik Holmström